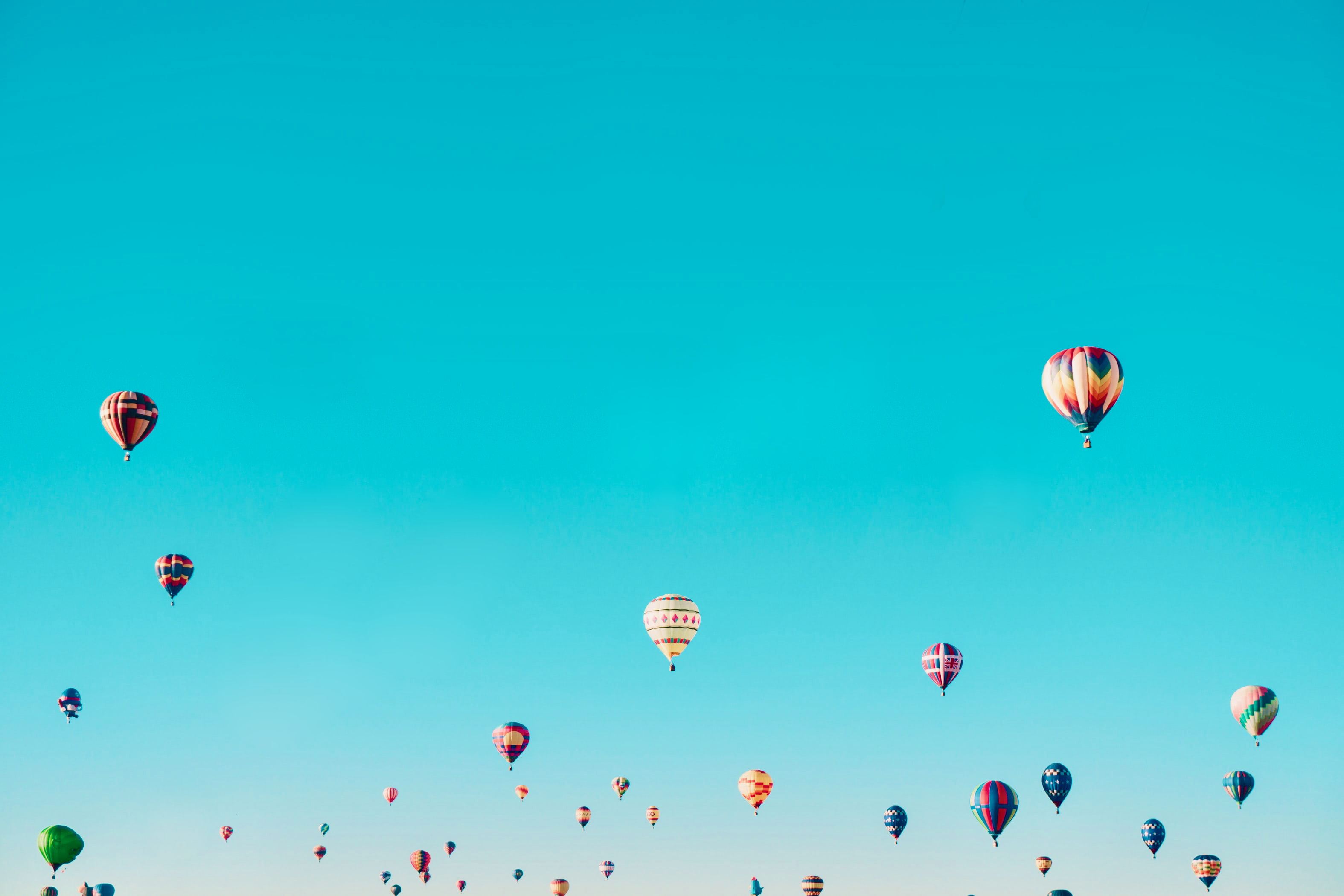 How to set up a subscriber milestone referral program on Squarespace
This article will guide you through how to set up a subscriber milestone referral program to grow your email list.
A subscriber milestone referral program is great for pre-launch stores, businesses getting started with email marketing, and people looking to boost their existing email list.
This guide will take you about 15 minutes to complete, plus any extra customization you want to make.
What is a subscriber milestone program?
A subscriber milestone program helps you get more subscribers for your email newsletter and contact database.
When people sign up for your email list, you'll give them the option to share your site with their friends.
In exchange for sharing your site, you'll give them rewards based on how many friends they refer to sign up for your email list.
Let's walk through setting up your new milestone referral program so you can grow your email list and reward your biggest fans.
1. Create your Peach's account
Head to the Peach's landing page for subscriber milestone programs and click "Get Started."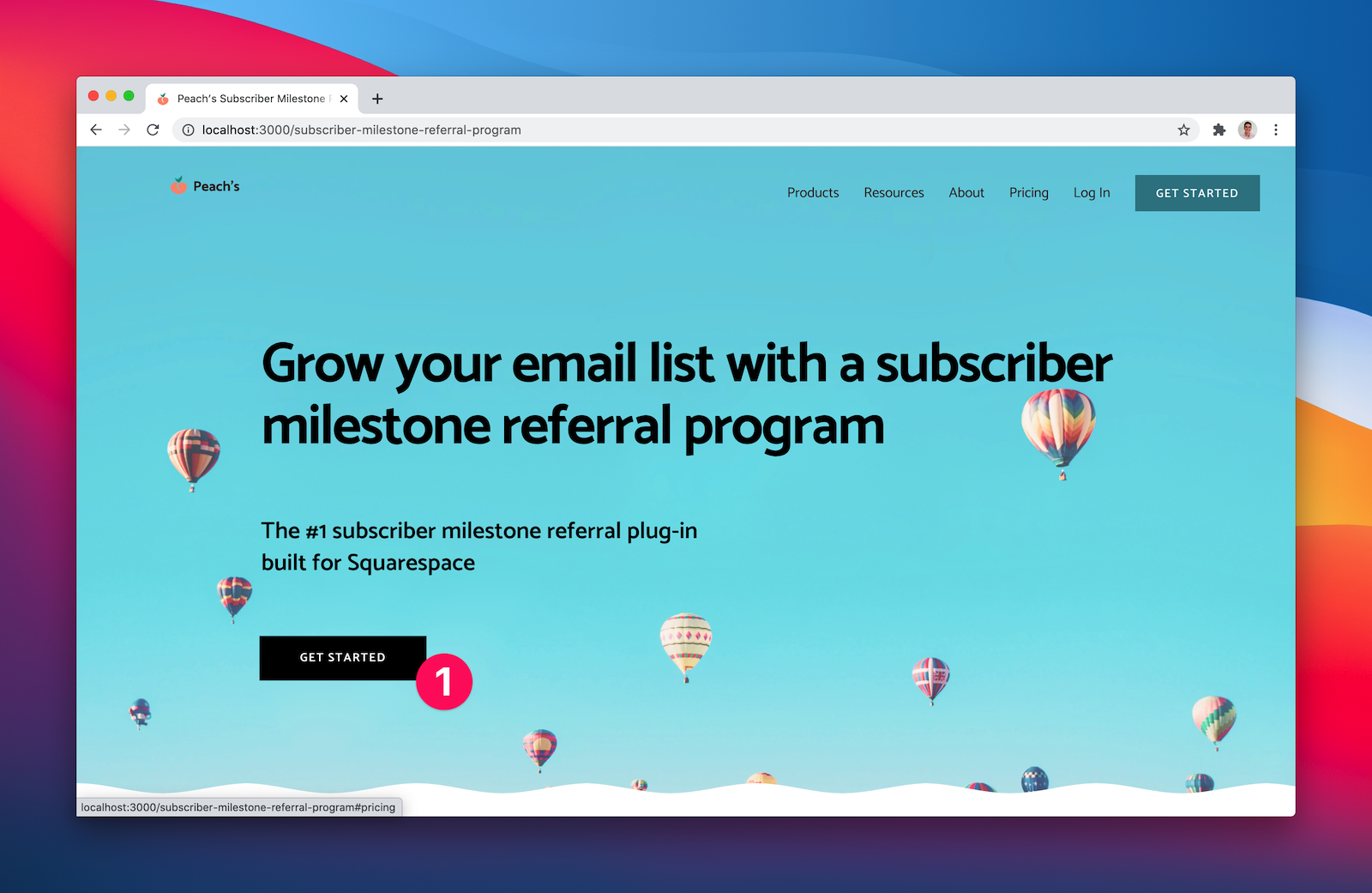 Choose the right plan based on the size of your business, and then enter your details to create a Peach's account.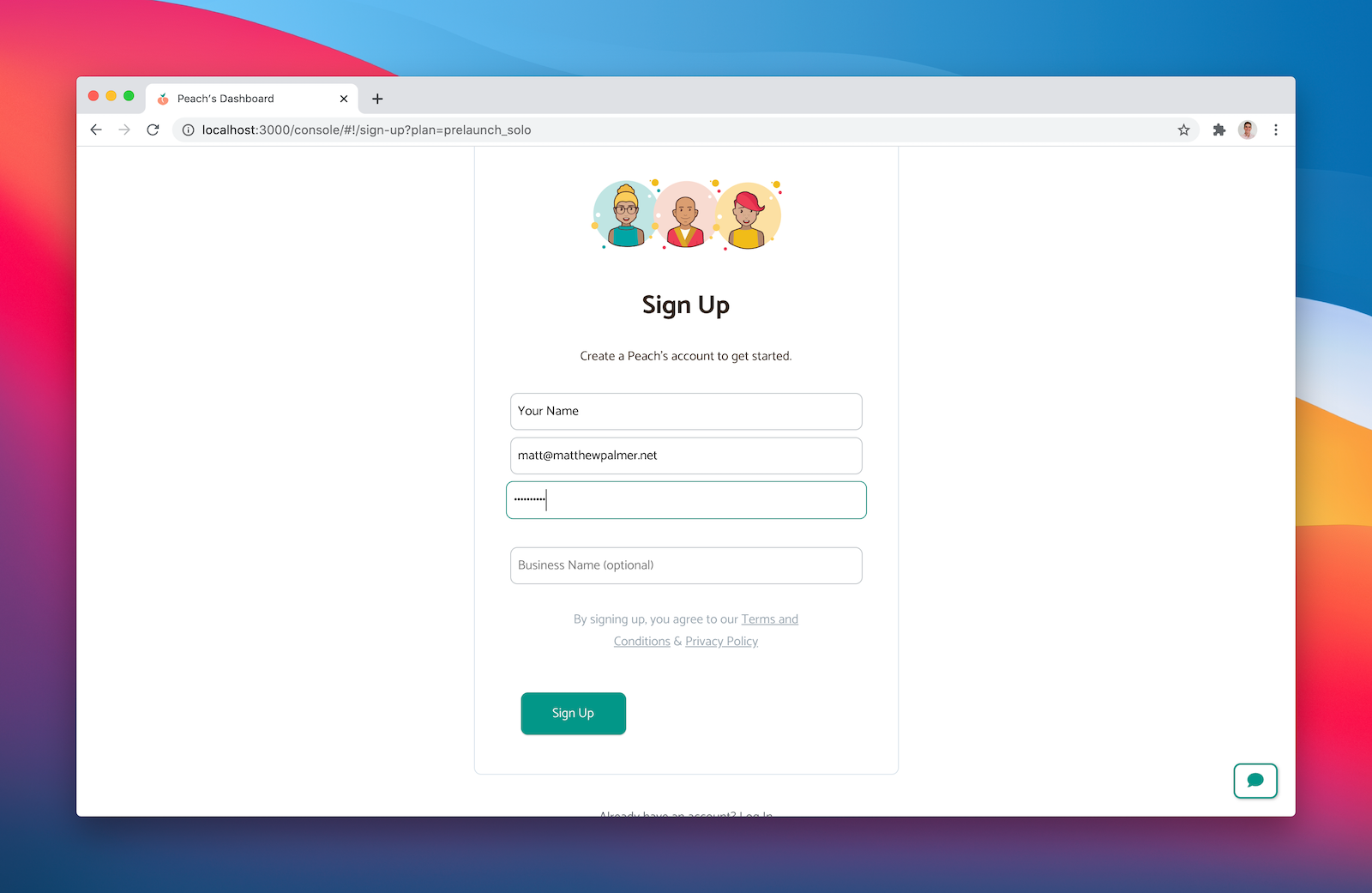 Enter your program's name and the URL of your landing page. This URL is where your referral widgets and sign up form will be embedded on your site. It could be your homepage or a dedicated landing page.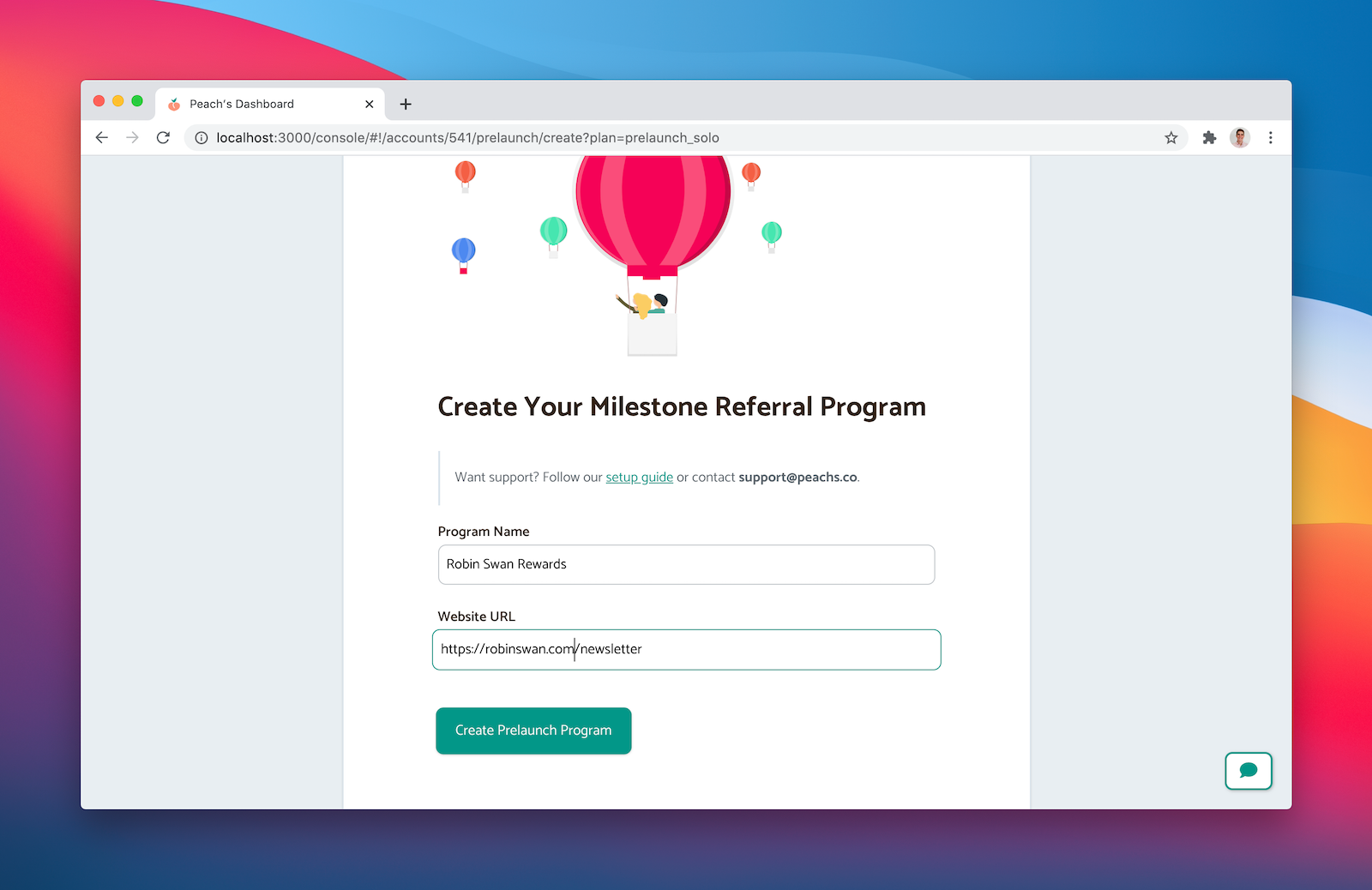 After you've created your program, you'll be on your Peach's subscriber milestone referral program dashboard. Feel free to click around and explore!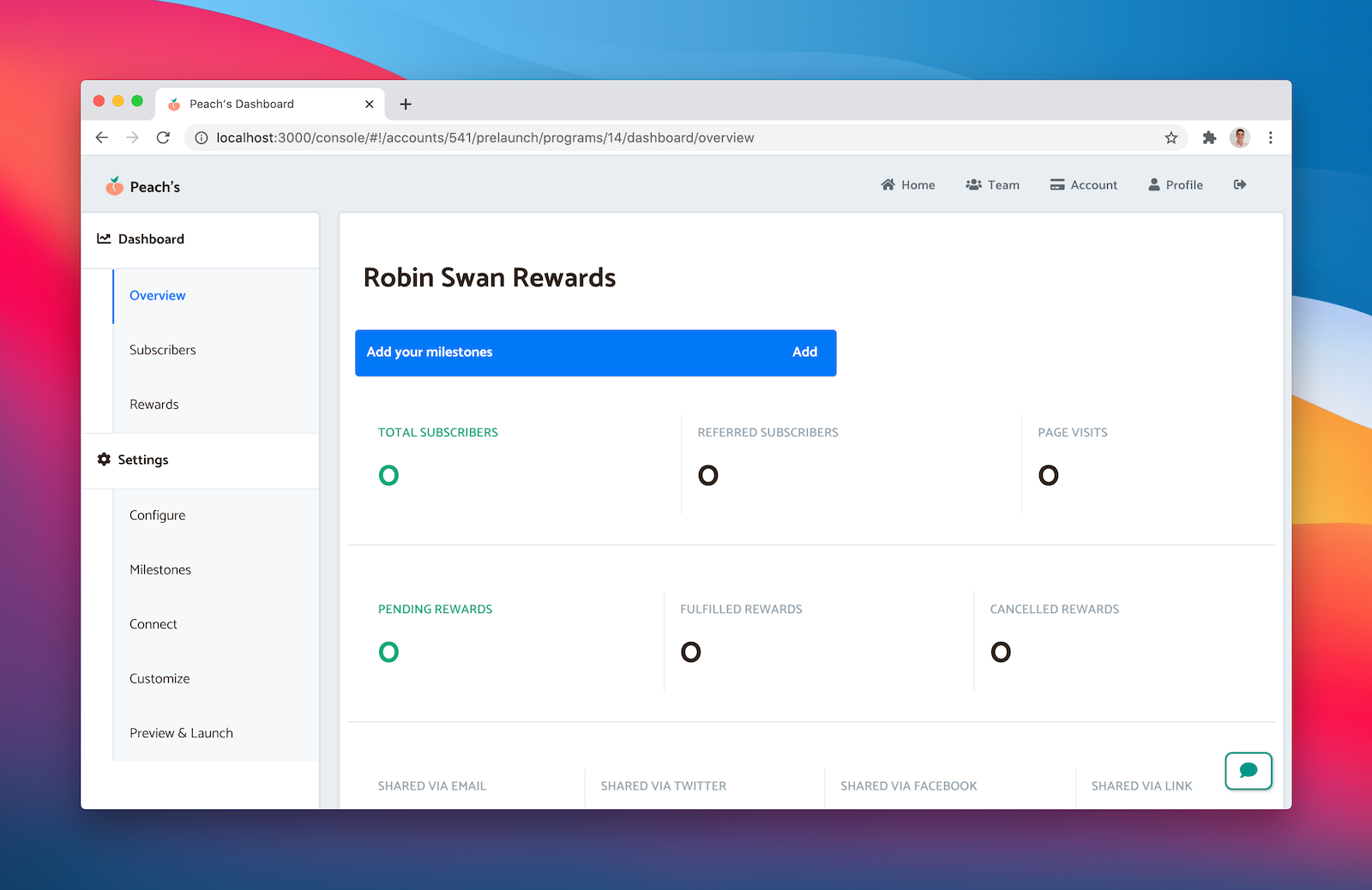 Set up your milestone rewards
When you're ready to keep going, head to the "Milestones" tab.
Milestones are the different reward levels available to your subscribers. When your subscribers refer a certain number of friends to sign up to your email list, they'll reach a new milestone and earn a reward.
You can keep it simple with just one milestone reward for referring a single friend. Or you can set up more complicated milestone configurations for advanced rewards.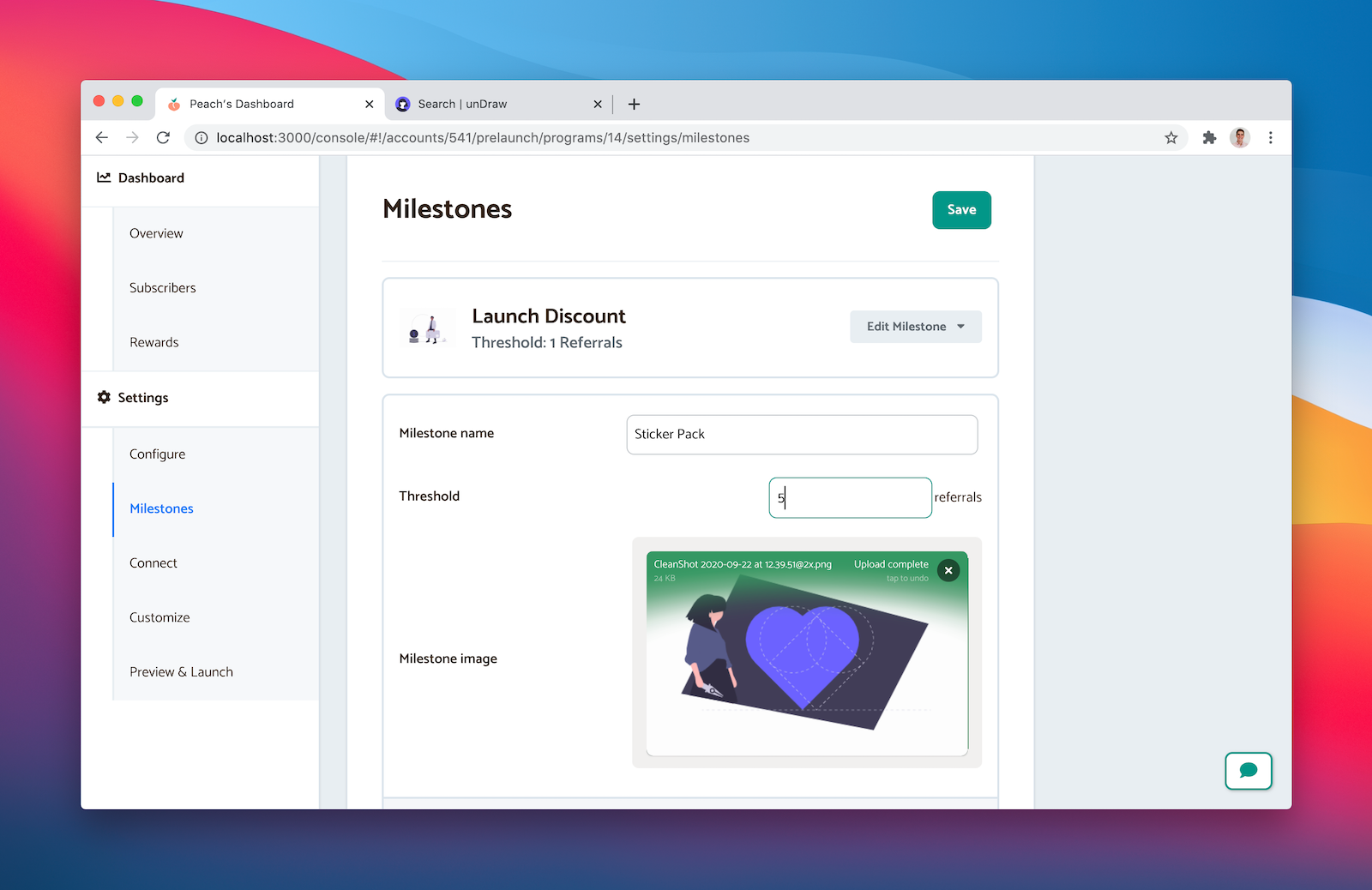 In this example, we'll reward people who refer one friend with a $5 discount, five friend referrals will get a sticker pack, and ten friend referrals gets them a free t-shirt.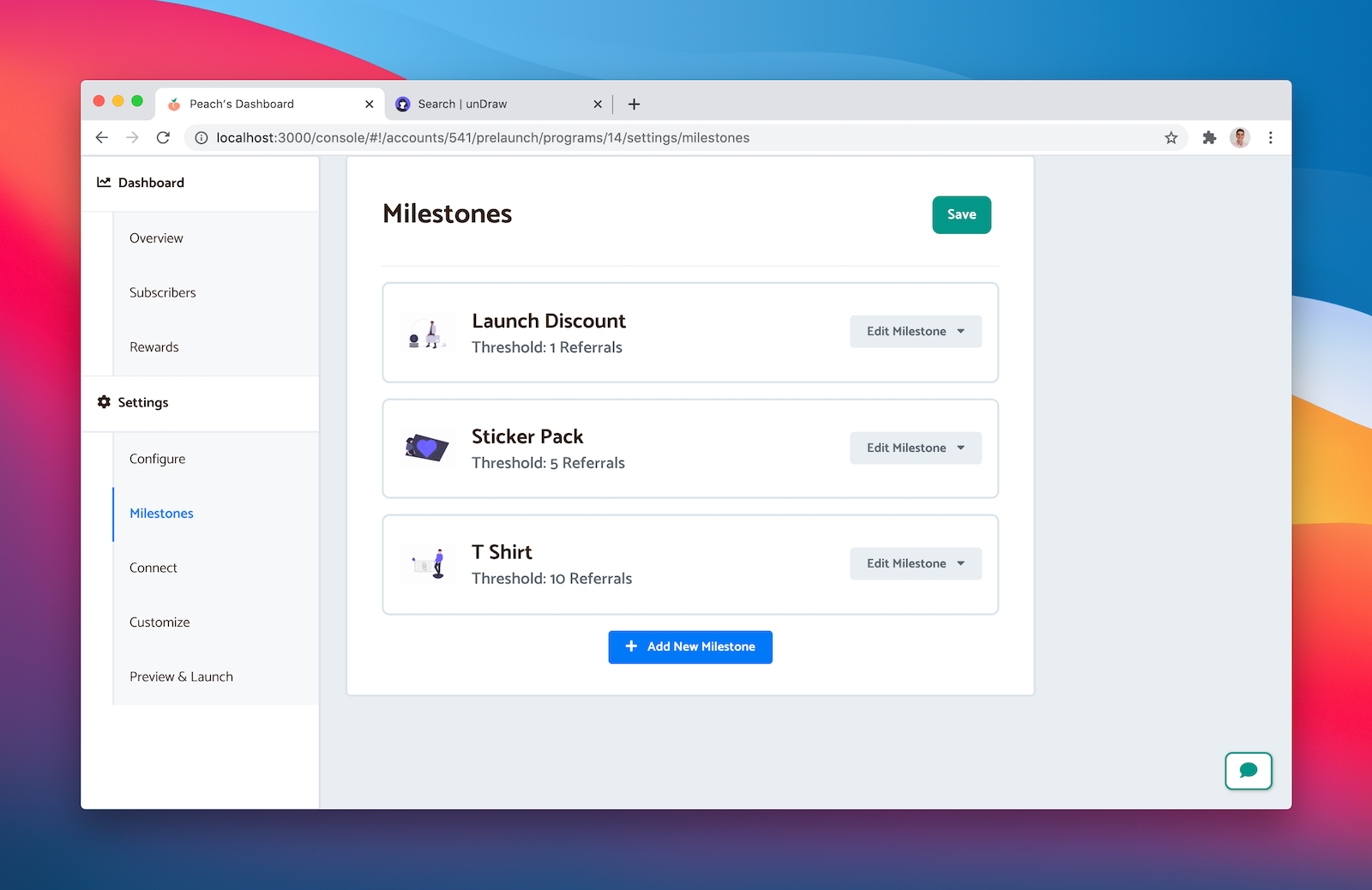 Once you've set up your milestones, remember to click "Save" to keep your changes.
Connect your widgets
Now that your milestone rewards are ready, you can connect your widgets to your landing page.
Head to the "Connect" tab in your Peach's dashboard.
Click on the first step, which will guide you through adding your widget script to your landing page.
Copy the code from the text field on your Peach's dashboard.
On the page you've decided will be your referral program page on Squarespace, we need to add a new code block.
In your Squarespace page editor, hover your cursor in the area where you want to add the widgets.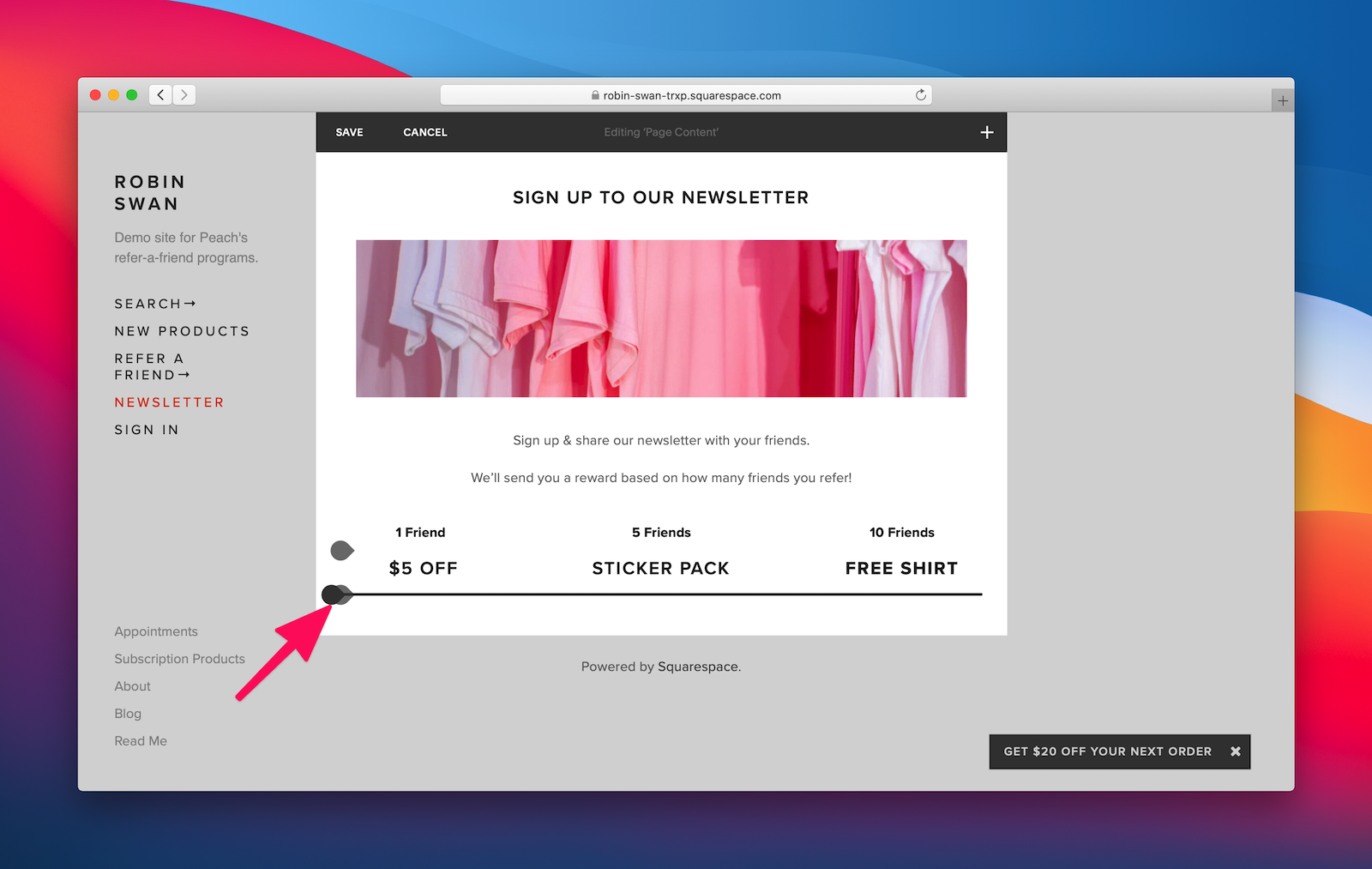 Click to add a new block, and in the popup that appears, search for "Code" and choose the Code block.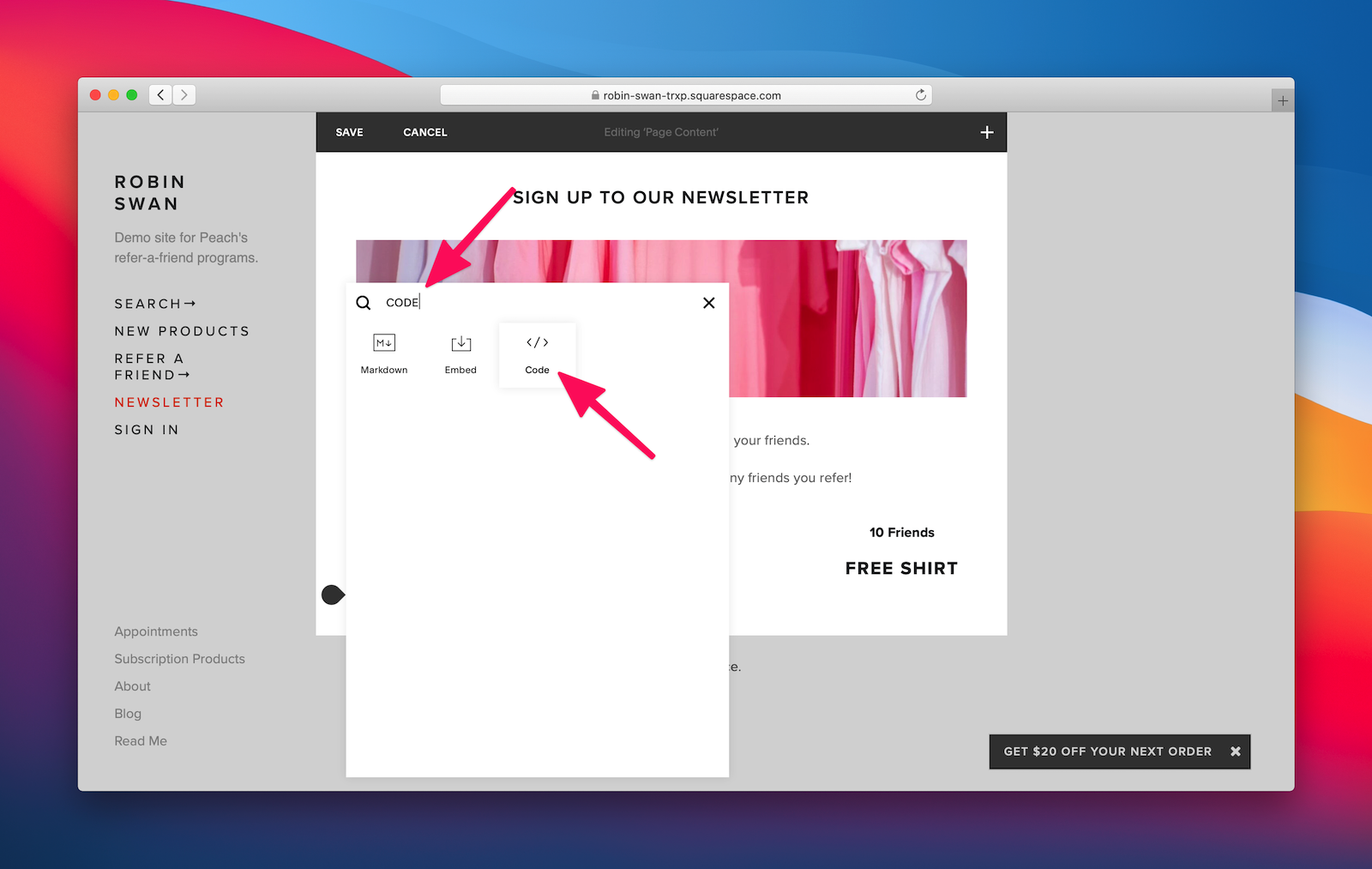 Uncheck the checkbox for "Display Source," choose "HTML" in the dropdown on the right hand side, and paste in your code.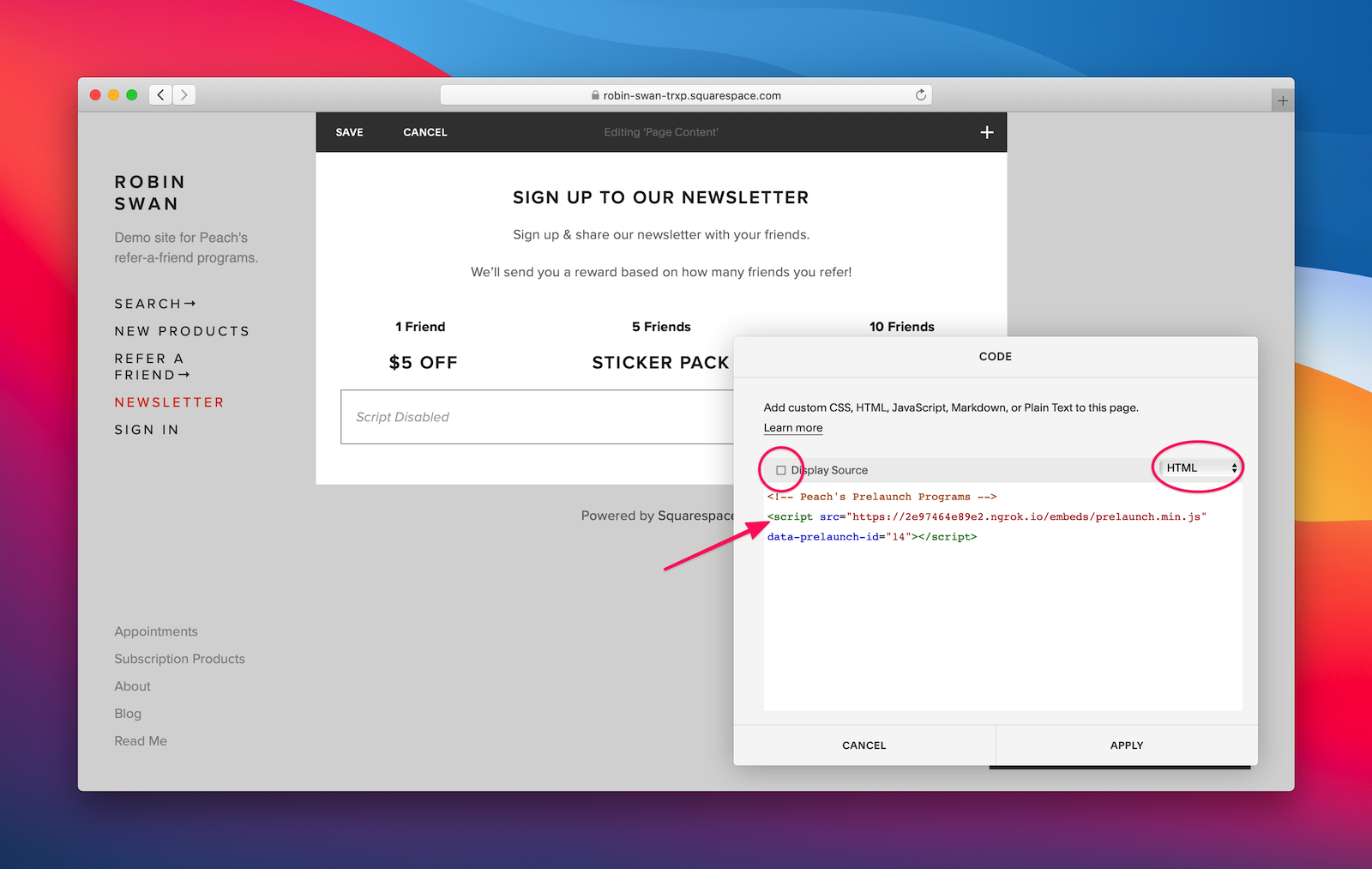 Click "Apply" to add your code block, and click "Save" on your page to save these changes.
Your widgets are now on your site – though Squarespace doesn't display them in the editor.
Sign up a test referrer
In a new private window (where you're not logged in as a Squarespace admin), open your landing page. You'll see your new milestone referral program widget appear.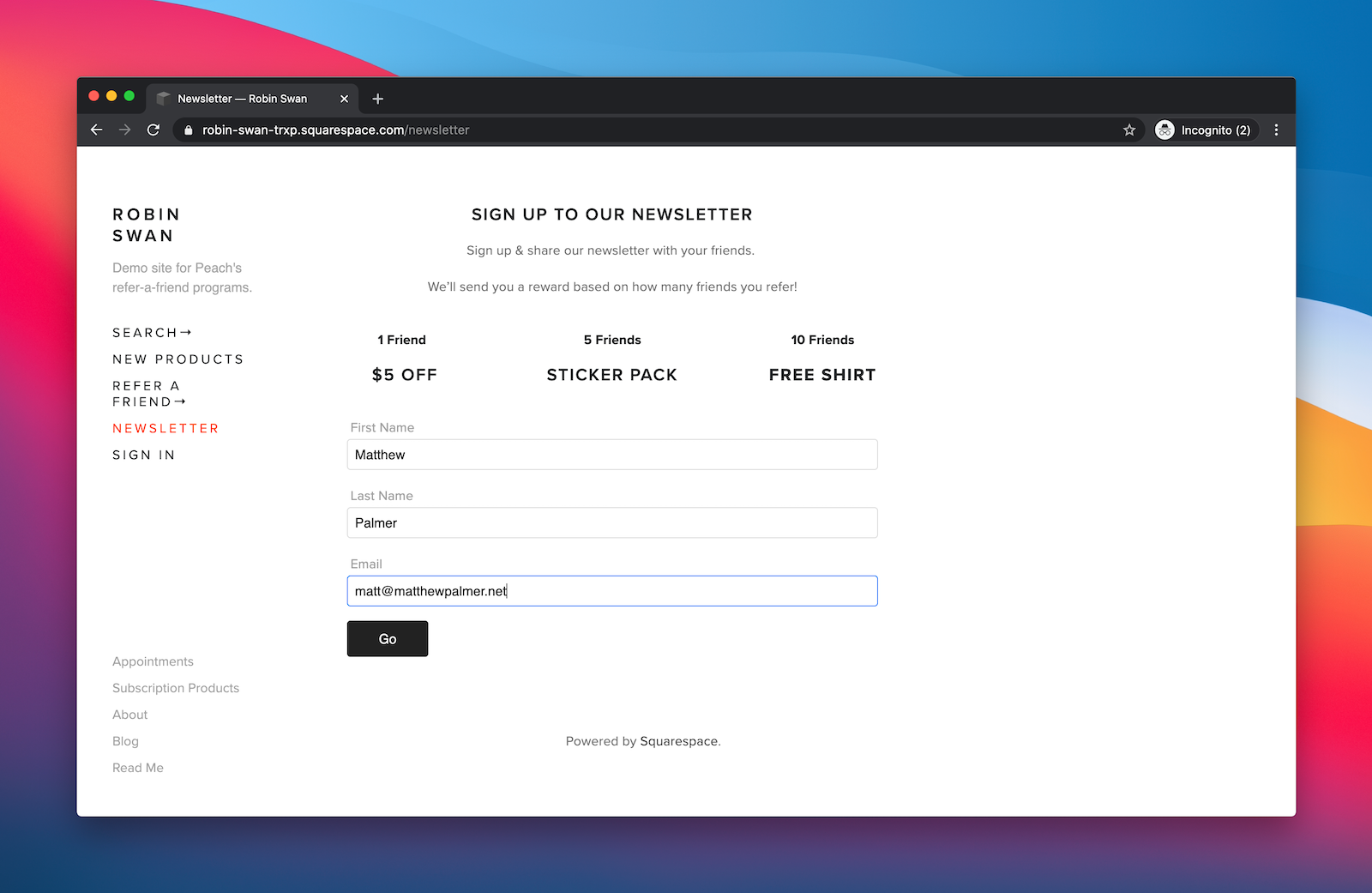 Sign up as a subscriber to test out the widget. When you reach the sharing options in the widget, click the link icon on the far right to copy your referral link to your clipboard.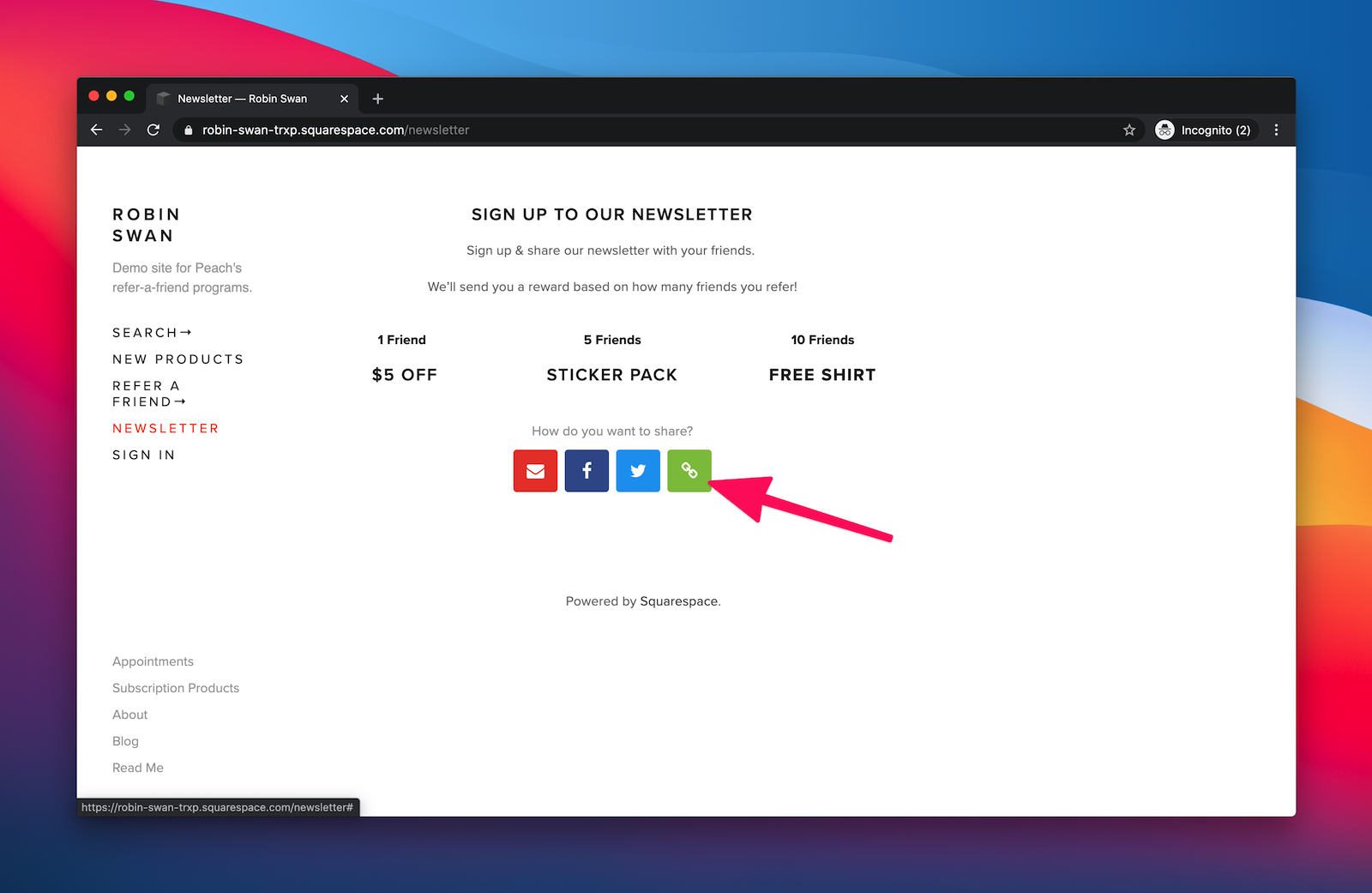 Now, back on your Peach's dashboard, we're ready to check our work.
In the Connect tab, click "Test" on step 1 to check your script has been added correctly.
In step 2, click "Test" to check that your test subscriber has been added.
Sign up a friend referral
In the previous step, we copied the subscriber's referral link to your clipboard.
When a subscriber shares their referral link with their friends or on social media, anyone who signs up via that link will count as a referral for that subscriber.
In a new private browsing window, paste the referral link into your address bar.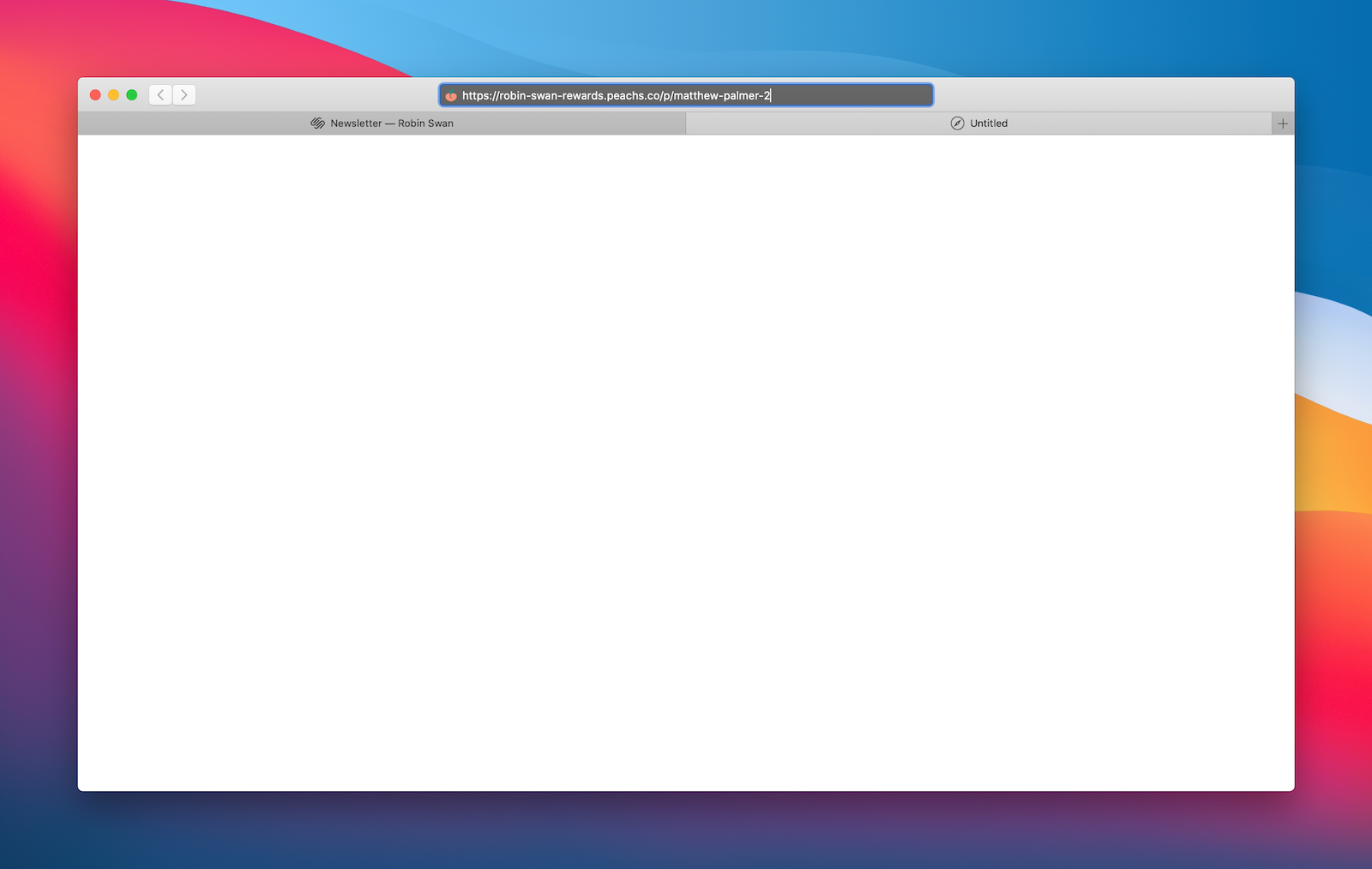 This will take you to your landing page, except this time any sign ups via that link will count as referrals for the original subscriber.
(Don't worry – when you launch your program we'll switch on self-referral and fraud protection so that people can't just sign themselves up!)
Sign up again under a different email address, this time it will count as a friend referral for the original referrer.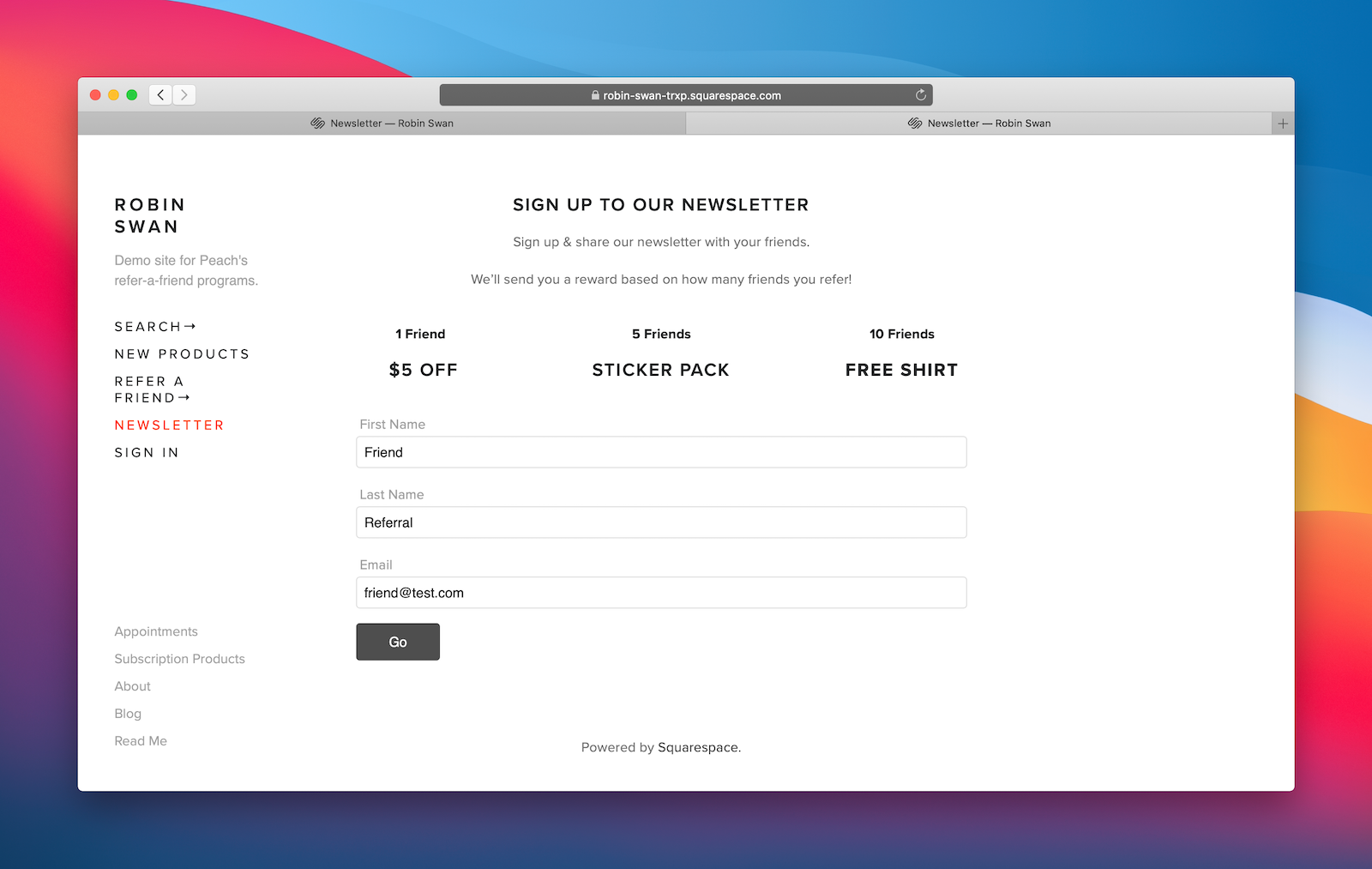 Back on your Peach's dashboard, we're ready to check step 3.
Click "Test" on step 3 to make sure the friend referral is working.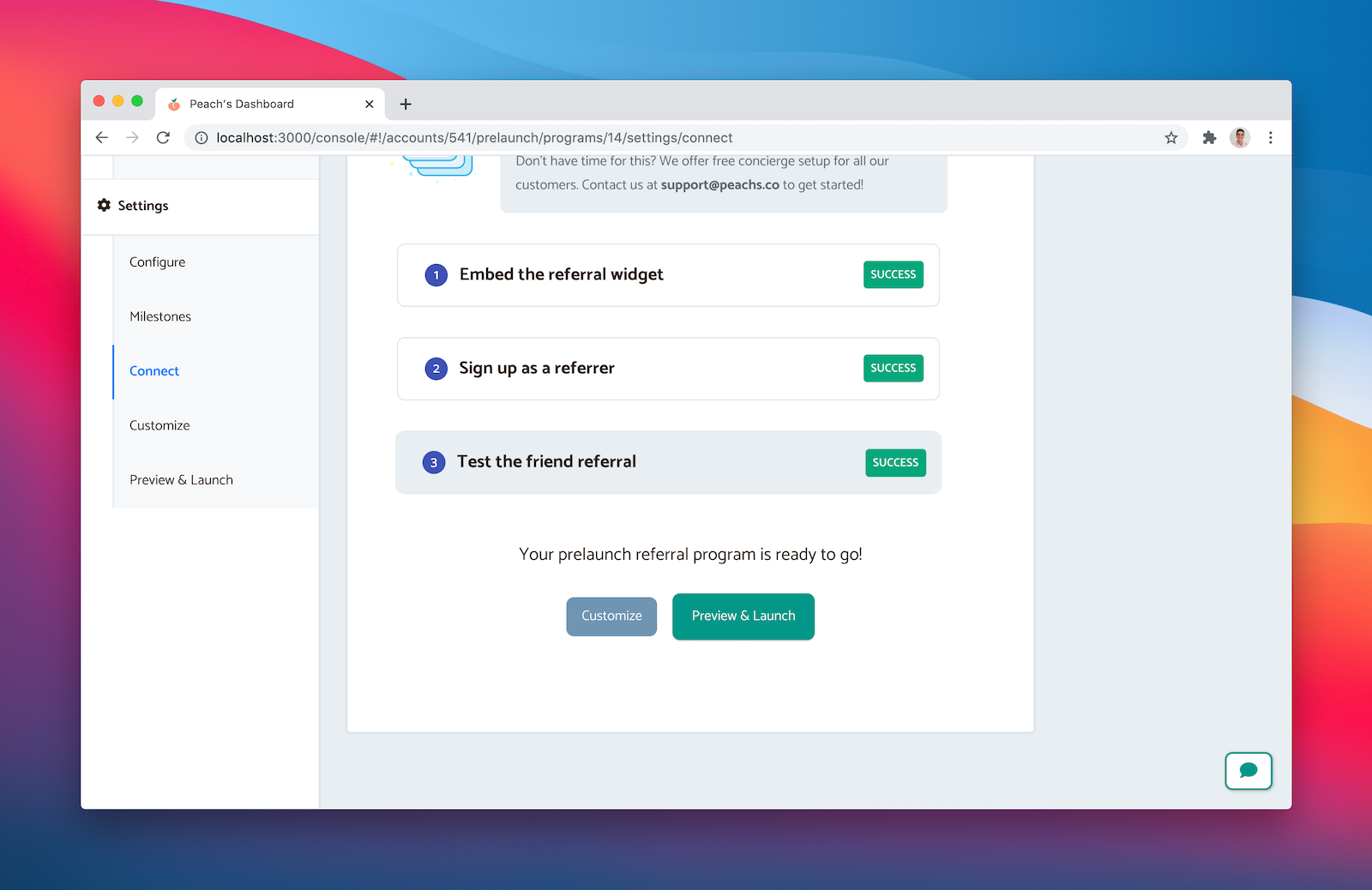 Customize your program
Now you can continue to customize your program, including email templates, widget styles, and tweak the program's verbiage.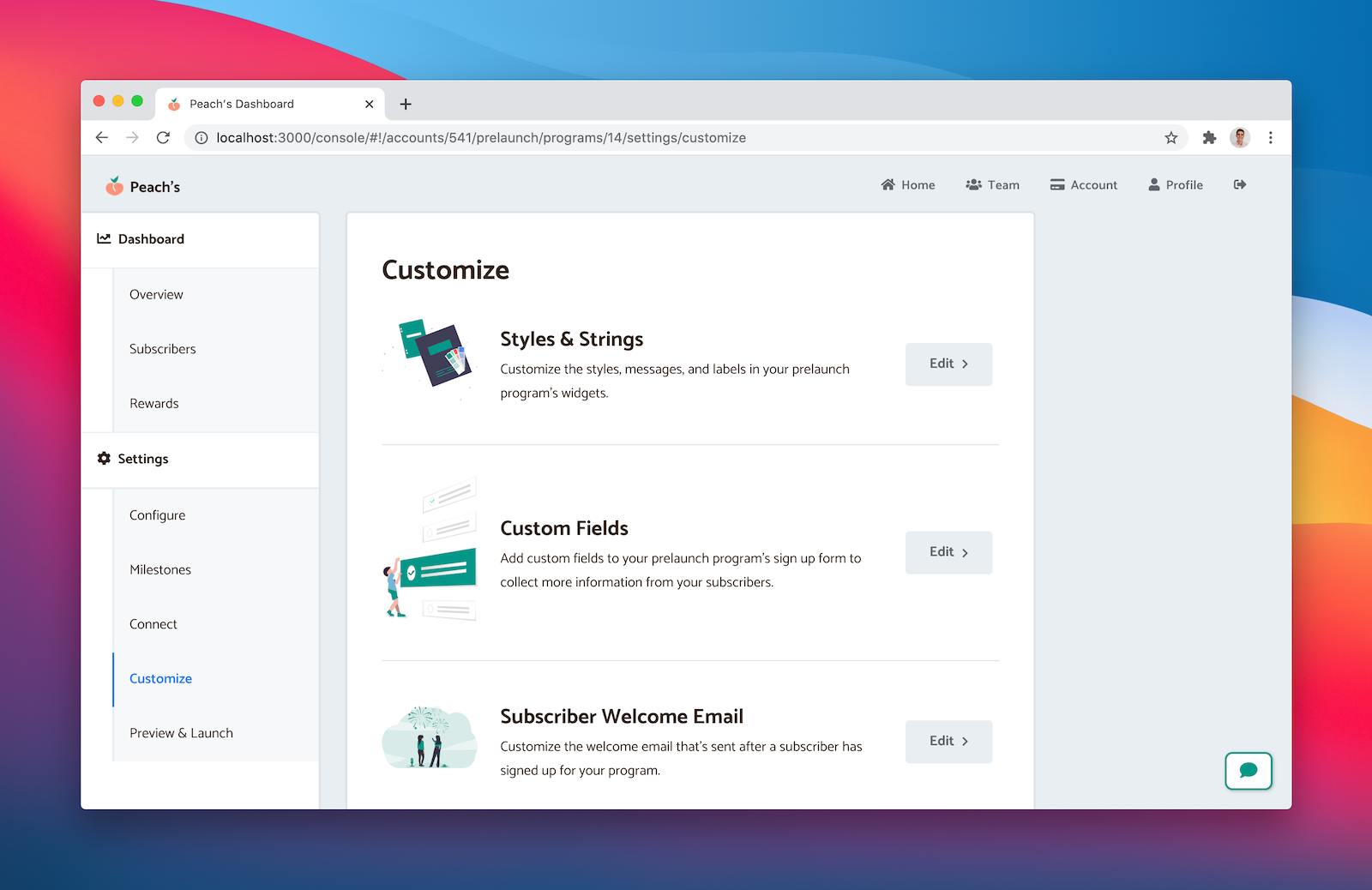 When you're ready to launch, head to the "Preview & Launch" tab, and click the "Launch" button to make your referral program live.
Manage Rewards
When a subscriber reaches a new milestone reward, we'll email you and the subscriber to notify about the new reward (assuming the program is set up to send these notifications).
Your Peach's dashboard helps you track who has earned which reward via "Rewards" tab.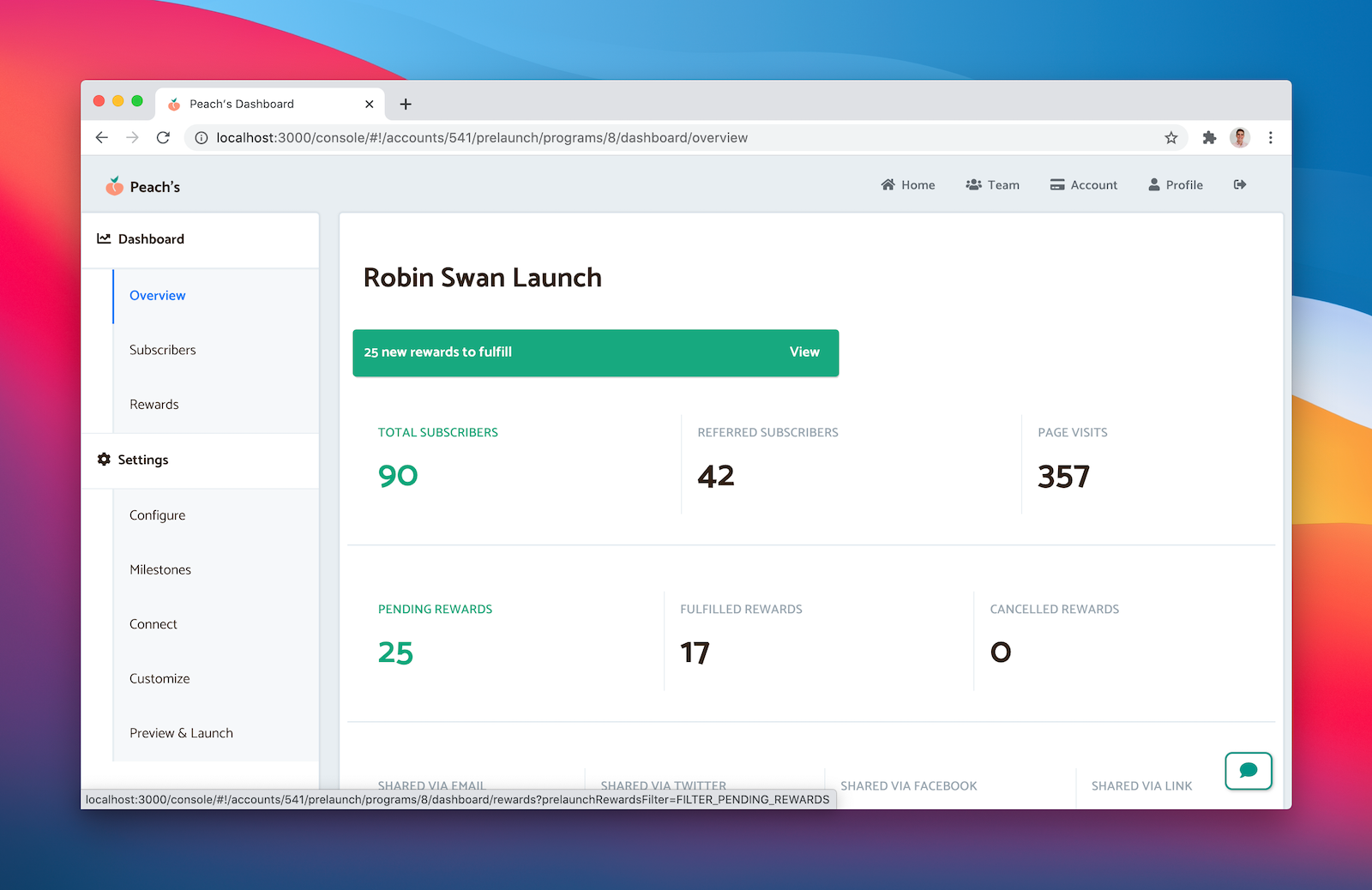 When a subscriber earns a reward, you'll deliver it to them via the appropriate method depending on what the reward actually is.
When you've delivered the reward, go into your Peach's dashboard and click "Mark as Fulfilled."
This will help you keep track of which rewards have already been distributed, and which you still need to send out.
Exporting your subscribers (to Mailchimp)
When you're ready to start sending emails to people who have signed up for your referral program, exporting them from Peach's is easy.
Just head to your "Subscribers" tab and click "Export CSV."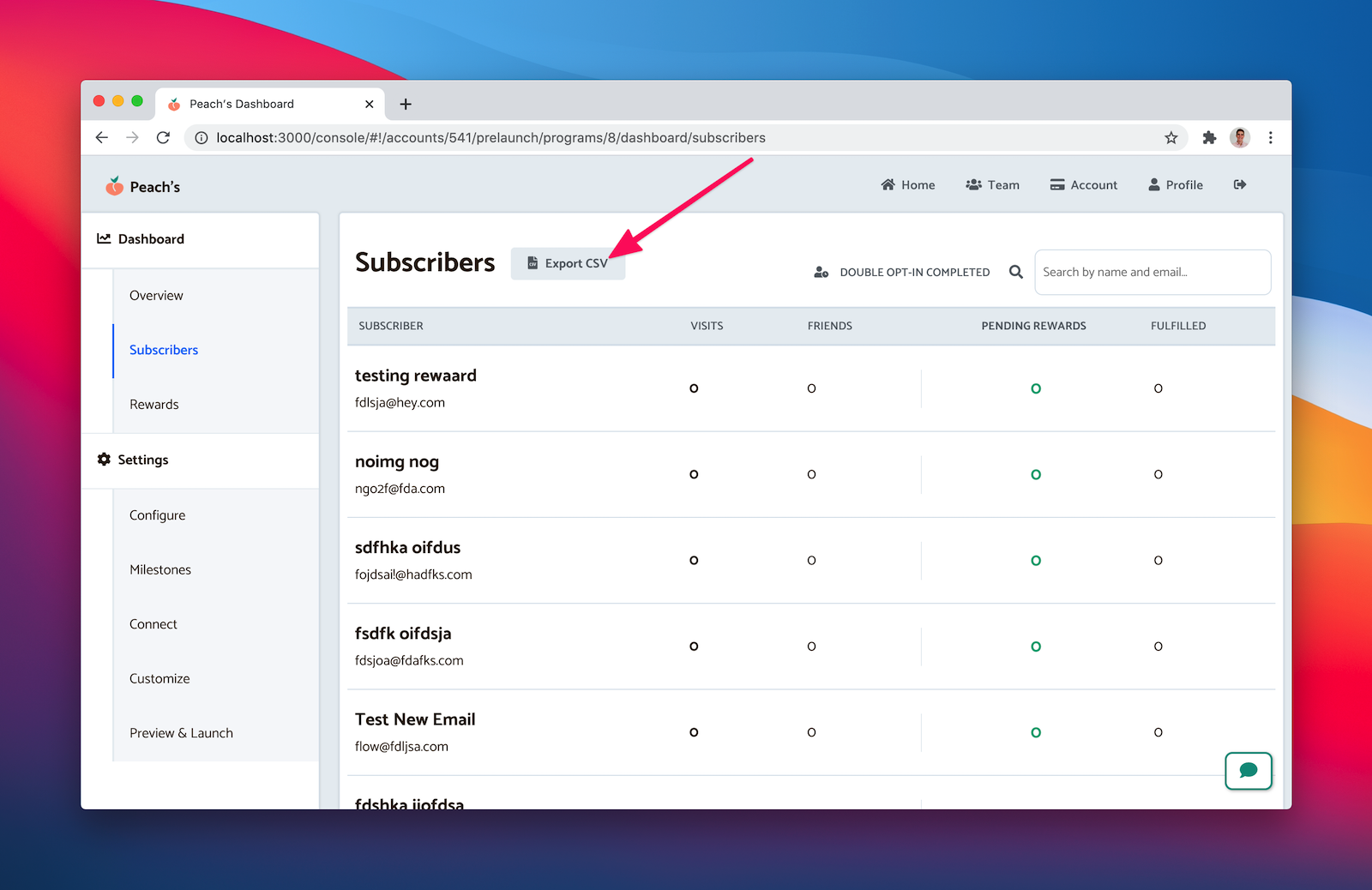 In Mailchimp (or any other email marketing tool), follow that system's method for importing contacts. You can generally find this by Googling the name of your email tool and "import contacts" (or email us at support@peachs.co and we can help).
This makes it easy to get all your contacts from Peach's into your advanced email campaign tool so that you can deliver quality email marketing.
Contact us at support@peachs.co if you have questions at any time.